🛠 The Product Person #31: Lenny Rachitsky
I interviewed Lenny Rachitsky, former PM at Airbnb.
hey product people! Anthony here.
This is a preview of my interview with Lenny Rachitsky. Lenny spent 7 years as a PM and Product Lead at Airbnb before becoming a part-time writer, investor, and advisor in 2019. His newsletter, "Lenny's Newsletter" focuses on product and growth strategy. It's some of the best product content on the web.
We talked about a lot, including:
⚡️ He broke down the specific details on how he led a team of 80+ people to increase Airbnb's instant bookings from 5% to 75%.

✏️ The most important and interesting things he's learned about product since starting his newsletter.

🌱 His thoughts on growth and building a viral product.

🤕 Mistakes he's learned from at Airbnb.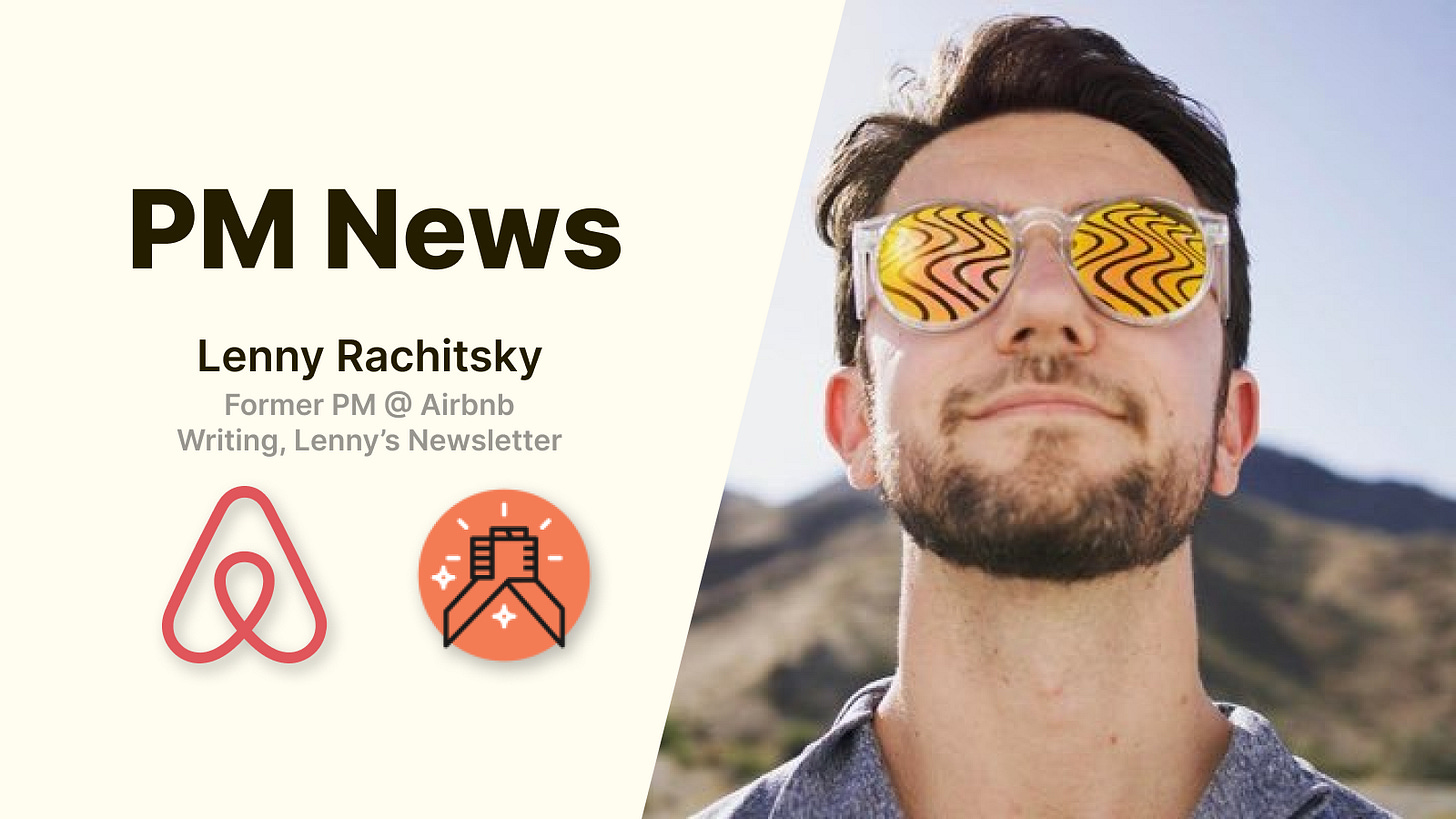 Here's are some video clips from my interview with Lenny:
Clip #1
⚡️ Lenny breaks down how he led a team of 80+ people at Airbnb to make Airbnb's bookings completely instant.
Clip #2
🌱 Since starting his newsletter, Lenny's learned that "growth is not as mysterious as a lot of people think…"
Clip #3
💸 Lenny's also learned that "[paid] growth is becoming more expensive" and "building a great product is becoming more important…"
Clip #4
👀 Another thing Lenny learned is that "you shouldn't rely on one company's example of how they grew or what they did right…"
Clip #5
🔥 Lenny shares his thoughts how to combat the rising cost of paid growth: "Build something remarkable." Growth for today's products rely on going viral.
Clip #6
📍An important lesson Lenny learned from working at Airbnb is to "push back on projects that you're fairly confident are not going to work out…"
Clip #7
🔥 Lenny's hot take: "People think that the best PMs are the ones that write and tweet all day." The best PMs are the ones that don't have time for that because they're actually doing the work.
Clip #8
✏️ How Lenny has been investing in the product of himself: "Writing."
Clip #9
🚀 Lenny explains why he's not starting a company anytime soon.
🎧 For the full 26 minute interview, subscribe to my other newsletter PM News :)
---
You can find Lenny on Twitter.

Also, subscribe to his product newsletter, Lenny's Newsletter.
---
Thanks for reading Issue #31 of The Product Person!
I'm Anthony —You can find me on Twitter • LinkedIn • My Blog
(If you could ❤️ this post, I'd really appreciate it 🤗 It helps a lot)
If this email was forwarded to you, subscribe here.
-
🌴 Have a great weekend!